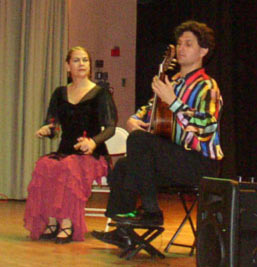 La Conja Flamenco Ensemble is available for schools shows, Lecture Demonstration, Assemblies. and Special Worships for students in the schools. Many kinds of classes can benefit from these programs including music, dance, literature ( the letras contain Garcia Lorca poetry), Spanish Clubs, and history classes.
Residence classes in the schools for students.
College & University extended residence classes & performance.
La Conja has worked for The Young Audience Program.
The City Center Young People's Dance Series, (YPDS)
Lincoln Center on Tour Program, and Guggenheim Work & Process Series.
La Conja gives a complete program of the History of Flamenco and demonstrates through dance, cante and guitar the different components of Flamenco.
Involving the students and teachers helps the students experience the poetic and creative meaning of the gypsy culture and music. This programs offers an exciting learning experience for everyone.
Email La Conja at laconja@aol.com or call 212.206.6333