Dance Classes
Check back for new schedule of
classes.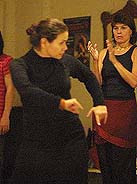 Dance Workshop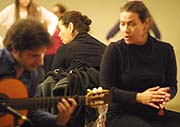 Dance Workshop- LA Conja and Antonio Trianna working out compas
Companies

Columbia Artist National Tour with

Jose Greco Company-Featured Artist-1991-92

CBS Produced Musical Matador-Featured Artist-1986

At Coonut Grove Playhouse

Jose Molina Spanish Dance Company-1986-87

Pasqual Olivera & Angela de Moral Company-1994

Los Canasteros, Madrid, Spain, dancer-1981-84

Corral de Moreria Madrid, Spain-dancer-1981-84
Upcoming Performances
Show
Friday Nov. 11th & Saturday Nov. 12th, 2005
Alegrias @ La Nacional Centro Español
239 West 14th St. (upstairs) between 7th & 8th Ave.
2 shows 9:00pm & 11:00pm
917 667-2695
La Conja & Special guest from Spain
Jose Maria Amador (El Piani) Flamenco Singer/Piano player
On Saturday night Special Guest Dancer Raquel Heredia
Special Appearances
La Conja Dancer/Singer
@ Plymouth Independent Film Festival
Thursday, July 21, 2005 @ 6:30 PM
Location Plymouth Plantation
$75.00 per person Reception & Benefit
Live Radio Program Woman In Flamenco
Friday, June 17, 2005 from 3-4pm
WPKN 89.5 Bridgeport CT
Host Melinda Marquez
La Conja will also give a special Flamenco Workshop
July 22, 2005 for more information
www.plyfilmfest.org
Lisa Mattei festival Director
lisa@plyfilmfest.org
May 12, 2004
HotHouse
31 E Balbo (bet State & Wabash)
Chicago Il 60604
Ph: 312 362-9707 for info. on classes with the artist,
go to:www.flamencoartscenter.com
Sat May 15
at 7:00PM
Unity Church-Unitarian
732 Holly Avenue, Saint Paul, MN 55104
for info: tonyhauser@usfamily.net
612 331-7788
May 21 & 22
La Galeria de Casa Panza
1620 SW 89th Street
Miami, Florida
305.643.5343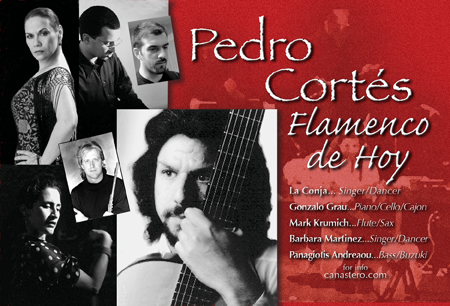 ---
Clubs
Places to see Flamenco in NY
Suba Restaurant -Tapas Lounge
109 Ludlow St.
NY, NY, 212 982-5714
Meson Flamenco-fridays & saturdays
135 Atlantic Blvd.
718.625.7177
Past Performances
Click here
Highlights of past concerts and shows.
---


Que Viva Mingus!
Mingus Big Band
Hear La Conja sing on
Ysabels Tabale Dance
Also hear La Conja on
Un Segundo Una Vida
by Romero
333 Entertainment


Lorca in a Green Dress
Written by Pulitzer Prize Winner
Nilo Cruz
Voces y Suspiros
La Conja & Pedro Cortés
@ Meson Flamenco
January 2004