Studio Recordings &
Musical Videos
New Workshop-April 2011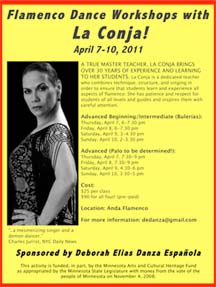 Clic to see larger

email-laconja
---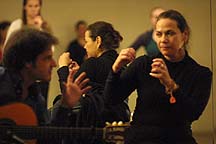 Dance Workshop- LA Conja and Antonio Trianna working out compas


La Conja toured with:
Jose Greco Company-Featured Artist-1991-92

CBS Produced Musical Matador-Featured Artist-1986

At Coonut Grove Playhouse

Jose Molina Spanish Dance Company-1986-87

Pasqual Olivera & Angela de Moral Company-1994

Los Canasteros, Madrid, Spain, dancer-1981-84

Corral de Moreria Madrid, Spain-dancer-1981-84
Testimonials

"La Conja is a dedicated teacher who combines technique, structure, and singing in order to insure that students learn and experience all aspects of flamenco"
"The strength and speed of my footwork has increased as a result of La Conja's specialized footwork exercises."
Liz Goldstein (NYC Teacher)
A TRUE MASTER TEACHER, LA CONJA BRINGS OVER 30 YEARS OF EXPERIENCE AND LEARNING TO HER STUDENTS. She has a patience and respect for students of all levels and guides and inspires them with careful attention. She has taught for Zorongo on a regular basis for over 20 years and has played a great roll in the creation of theater works and developing our dancers. Her knowledge of the "cante" is also part of her thorough teaching approach.
Susana di Palma
Artistic Director
Zorongo Flamenco Dance Theater
Dance Classes
La Conja has been teaching for many years here and abroad. Her vast knowledge of styles and current techniques from Spain allow her to teach you the most up to date styles.
Because she is also a singer she understands the compas as few do and can apply that skill to her dance. Rythm and compas are very important to her as well as style and technique.
She also studies in Spain to keep up on current trends and styles.